Well done Erik! Erik was able to receive his well-deserved award as the winner  in the performance competition of the Chamber of crafts in the profession of precision mechanic.
This year, we are particularly pleased with this success – despite difficult conditions during the Corona pandemic, we were able to offer our apprentices optimal training.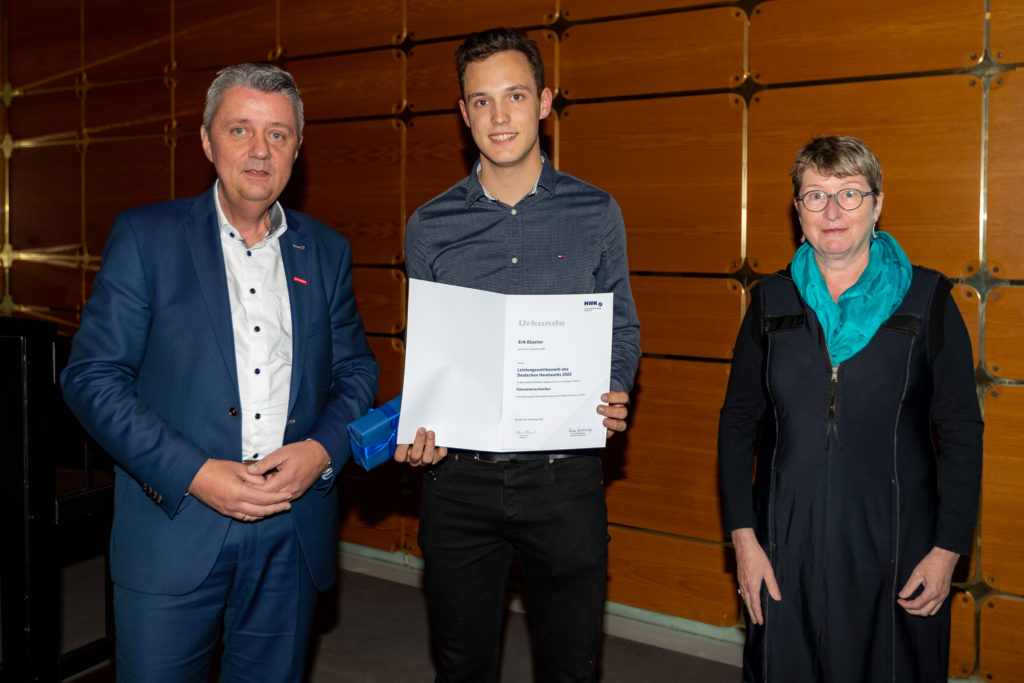 New crane for manufacturing
Our sales team has been strengthened
18.05.2022: Tobias Üffing-Schneiders introduces himself:
Why did you join B&B?
I´m always looking for new challenges. Complex machines with an ever-increasing amount of automation are things that fascinated me since I was very young.
Around the middle of last year, I considered a change from my old area of responsibility (commissioning, service, automation). B&B had been a well-known and very interesting employer for a long time, which now makes this change possible for me. I enjoy customer contact and communication with different cultures.
What are your responsibilities at B&B?
Sales engineer for bag and packaging machines. After a training period in sales and the R&D department (to improve the knowledge about the wide machine range) I am very excited about my first projects.
How would you describe your team?
A very cool team! Open and helpful colleagues make my start easier.
What do you do when you're not selling bag or packaging machines?
Spending free time with family and friends; traveling: This summer I'm going through Austria, Switzerland and Italy; Sports enthusiast in the blue jersey of Westfalia 07 Hopsten (Football).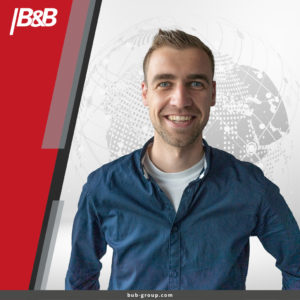 Film packaging machine RC/SBP for tissue rolls
10.05.2022: Have a look at our newest film packaging machine RC/SBP for tissue rolls. This video was made during the internal machine acceptance. Before FAT and handover to the customer we check every machine internally to guarantee that all customer's requirements are fulfilled.

B&B packaging solutions for petfood
04.05.2022: B&B is your partner for packaging solutions in petfood. With our bag machines, the end-of-line packaging machines or the bag sealers, we offer our customers a comprehensive portfolio for your perfect packaging.
Experts for recyclable full PE packaging solutions
On September 14 and 15th 2021 a vocational training fair took place in Rheine. Around 70 exhibitors took part this year.
We were also represented there together with our trainees Nils Haarmeyer (technical product designer) and Arne Üffing (mechatronics technician).
Together with our trainees we answered the questions of the pupils and hope that we could inspire one or the other join our team.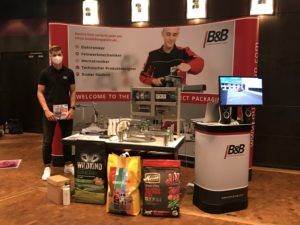 12.02.2020: Working towards new limits 2kg at 100 bags/Minute from one film reel.
05.02.2021: Always setting new standards for bag making and end of line packaging machines. Have a look at our new intuitive operations interface.
27.11.2020: At B&B we always focus on our customers and their products.
Here a short clip of a machine test run of a bag filler for tissue from a products' point of view…
13.11.2020: We are proud to be sponsor of our local soccer club Westfalia Hopsten.