On September 14 and 15th 2021 a vocational training fair took place in Rheine. Around 70 exhibitors took part this year.
We were also represented there together with our trainees Nils Haarmeyer (technical product designer) and Arne Üffing (mechatronics technician).
Together with our trainees we answered the questions of the pupils and hope that we could inspire one or the other join our team.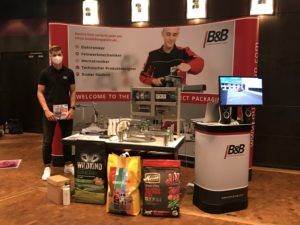 12.02.2020: Working towards new limits 2kg at 100 bags/Minute from one film reel.
05.02.2021: Always setting new standards for bag making and end of line packaging machines. Have a look at our new intuitive operations interface.
27.11.2020: At B&B we always focus on our customers and their products.
Here a short clip of a machine test run of a bag filler for tissue from a products' point of view…
13.11.2020: We are proud to be sponsor of our local soccer club Westfalia Hopsten.